Currently two of the most prominent modern architects have large exhibitions. MoMA has a show on occasion of Frank Lloyd Wright's 150th birthday. At the same time, the National Gallery of Finland, Atheneum is showing Alvar Aalto – Art and the Modern Form.
Although there are 30 years age difference between these two architects, they have much in common.
Both reacted to the Arts and Crafts/Jugend style movements that introduced natural elements into architecture as a kind of protest against industrialisation. Wright and Aalto, however, embraced technology and used it extensively in finding new forms of expression. Both still called their own style "organic" and not only used nature's patterns and forms in their work, but often placed their buildings with a keen sense for, and integrated into, the natural environment. Both appreciated Japanese art (Wright being even a renowned art dealer) and, as in Japanese architecture, embraced the idea of architecture as "Gesamtkunstwerk" a unified form of art, where the space and the interior and all the furnitures, decorations and appliances are designed together.
There are quite a few other commonalities between these two artists, but one aspect interesting me in particular is their approach to the relationship between the human and the natural sphere. I think Aalto and Wright were at their core humanists, not naturalists. This means they recognised the human need, shaped by evolution, to be exposed to and in contact with nature and natural forms. The use of nature in their work thus served this human need, it wasn't merely a celebration of nature itself. This is a maybe fine but important distinction, as it shows the human and the natural spheres as separate domains – even though they might be connected. Their designs thus represent for me in their abstractions (e.g. the abstract shape of a lake in the famous Aalto vase) a humanised version of nature.
As much as I love especially Wright's works and many of Aalto's designs, this approach to nature is almost opposite to what I am trying to achieve. To highlight the difference it may be helpful to look at two Japanese artists, Sesshu and Hokusai, and their approach to abstraction. Western artists at the beginning of the 20th century (and both Wright and Aalto) were mostly exposed to Japanese art in the form of the woodblock prints from the Edo period, that is the works of e.g. Hokusai and Hiroshige. These Japanese masters, however, were thoroughly urban, living in one of the biggest cities in the world at the time. Their approach to abstraction of nature was based on a keen sense of separation where nature acts as much a threat as a benefactor to the human sphere. Like for Wright and Aalto nature seemed also for them most digestible in a humanised form. In contrast, Sesshu was a monk living in a monastery deep in the woods. In his haboku (abstract) works abstraction is expression for the highest form of unity between man and nature – the seeming differences between human and natural sphere dissolve into a blur of mere shared existence. While in Hokusai's work human aesthetic refinement seems like a victory over nature, Sesshu expresses the buddhist notion that "all is one".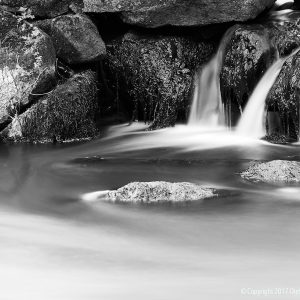 Still, even though there might be an underlying philosophy I do not wholly subscribe to, Wright's Fallingwater (1939), a private residence in Pennsylvania, is still my favourite piece of modern architecture. Like its poetic name suggests, Fallingwater is build on top of a river (and suffers all the to be expected problems with mildew and mould). In contrast and following Sesshu, I would very much like to convey an insight into being the river. Nevertheless, there is so much to learn from both Wright and Aalto that I might come back to them in a later post. Therefore: so long, Frank!
---
---